Dental Implants – Bristol, CT
The Gold Standard of Tooth Replacement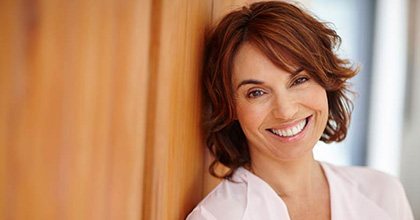 Living with missing teeth is not the type of life you want. Not only does it make eating a chore, but it also leaves you less eager to smile for photos. How grand would life be if you could have any number of missing teeth replaced with a solution that is practically indistinguishable from your natural teeth? You no longer have to wonder. At Bristol Family Dental, we offer lifelike dental implants to bring back your full smile. Contact our office today to schedule a visit with our dentists and discover what dental implants in Bristol can do for you!
Why Choose Bristol Family Dental for Dental Implants?
Start-to-Finish Dental Implant Treatment
Flexible In-House Dental Financing Options
Able to Replace Any Number of Teeth for Life
What Are Dental Implants?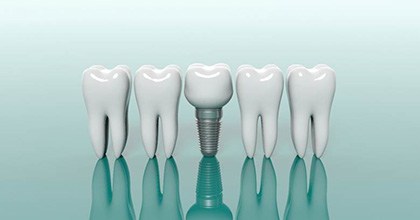 Considered the gold standard of tooth replacement, dental implants recreate the hidden roots of the teeth in addition to the visible crowns. The implant itself is a small titanium post that is surgically placed in your jawbone to act as an artificial tooth root. Titanium is biocompatible, which allows the implant to completely fuse to your jawbone for a lifetime of support. Afterward, we will mount a dental crown (or a bridge or denture) on top of your implant for a natural-looking, strong solution.
The 4-Step Dental Implant Process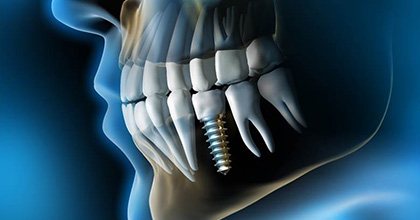 At Bristol Family Dental, we're able to complete the entire dental implant process in-house to ensure convenient and high-quality treatment. Once we've assessed your oral health and jawbone strength, completed any necessary preliminary work, and deemed you eligible for dental implants, our dentists will surgically position them in your jaw. After they fuse to the surrounding bone over the next several months, we can secure your prosthetic tooth or teeth atop them. Before even scheduling your initial appointment, here's what you can expect from the dental implant process.
Initial Dental Implant Consultation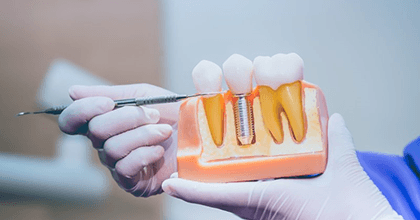 During your first appointment, our team will evaluate your oral health, review your medical/dental history, and discuss your smile goals to determine if you're eligible for the treatment. We'll also go over the estimated price of the procedure as well as the entire process so there aren't any surprises. In some cases, a patient might need preliminary treatments like gum disease therapy or bone grafting to ensure that their gums and jawbone are healthy enough for successful results. Once your oral health is in good condition, we can move forward with your plan.
Dental Implant Surgery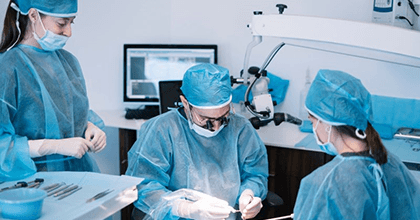 Before beginning your procedure, we'll be sure to completely numb your mouth with a local anesthetic so that you're pain-free throughout the appointment. Once we've verified that you're comfortable, your oral surgeon can begin by making a small incision in your gum line to reach your jawbone. They'll then place your dental implants at their preplanned angles and locations so that they fit naturally with the rest of your smile. We'll finish by suturing your gums closed around the posts and covering them with a protective cap so that you can heal properly.
Dental Implant Osseointegration & Abutment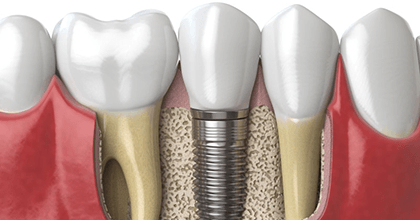 During your recovery, which should last several months, your jawbone should undergo osseointegration, in which the tissue fuses with the implants. This is what will create the stability necessary for natural-feeling and long-lasting restorations. After this process is completed and successful, you'll return to our practice to receive your abutments, which are designed to connect your restorations to your implants. You'll be sent home again to let your gums heal.
Delivery of Dental Implant Restoration(s)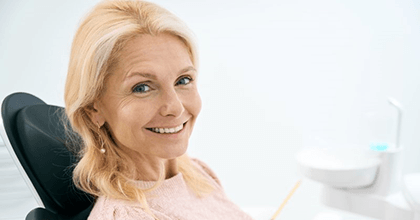 Once you've recovered and your permanent dental crown, bridge, or denture is finished, you'll come back to our office to have your brand-new teeth placed. Your dentist will make any minor adjustments if necessary to ensure your bite and results are satisfactory. We'll also answer any questions you may have and provide you with detailed instructions on how to maintain and care for your new pearly whites. If all is well, you'll be free to show off a healthy smile you can be proud of!
Benefits of Dental Implants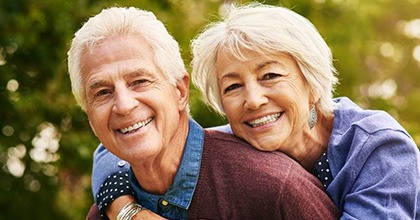 Over 500,000 people each year are choosing dental implants to replace their missing teeth. A dental implant is unlike any other treatment because it reconstructs the entire tooth structure from the root up. As a result, you can enjoy several advantages that can't be achieved using any other method. Here are a few of the many reasons why patients prefer dental implants.
High Success Rate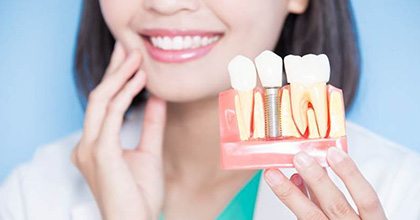 A dental implant is the most reliable solution to replace a lost tooth. In fact, it has a success rate of over 95%. With the right care over the years, like maintaining your oral hygiene, your dental implant has the potential to last forever to permanently treat your tooth loss.
Feels Natural
Your jawbone fuses to the dental implant post through a process called osseointegration. Your restoration will have a sturdy foundation to withstand the pressure of regular biting and chewing. You'll have a nearly perfect replica of your tooth, reinstating as much as 70% of your natural biting force.
Preserves Your Jawbone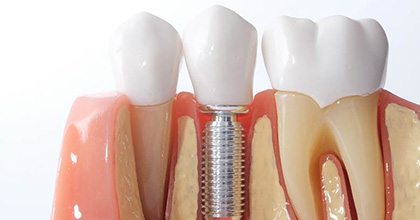 When a tooth is missing, you'll slowly lose density in your jaw because it isn't being stimulated by the root. You'll have an increased risk of cavities, gum disease, and additional tooth loss. A dental implant is the only treatment to preserve your jawbone. A titanium implant post is surgically placed into your bone to serve as a new root to keep your jaw strong and healthy.
Look Younger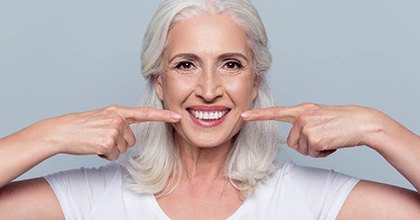 Your facial tissues rely on your teeth for support. If you've lost a few teeth, it can cause you to develop wrinkles or sagging skin. You might look years older than your true age. Treating your tooth loss will turn back the clock. Your facial tissues will have the support they need for a youthful appearance.
Cost-Effective Solution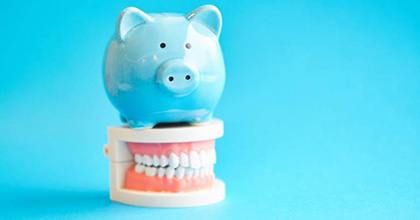 Initially, you'll pay more for dental implants than a traditional treatment, like a bridge; however, they are the most cost-effective long-term. With the potential to last for decades, you should never need to pay for new ones if you care for them properly, like brushing and flossing at home and visiting your dentist twice a year.
Dental implants also improve your oral health by stopping bone loss that can lead to cavities, gum disease, or tooth loss. As a result, you'll be less likely to need a costly treatment down the road.
Improved Confidence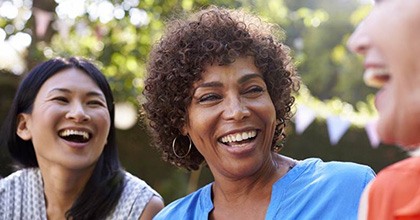 Losing even a single missing tooth can be devastating to your self-esteem. Filling the empty space with a dental implant will give your confidence a boost. Your replacement tooth will be made of all-ceramic material to look natural. It's customized to meet your exact specifications to blend in with your real teeth.
Who Dental Implants Can Help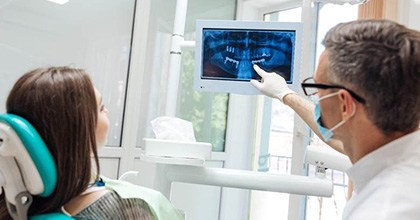 Before you receive dental implants, your dentist in Bristol will carefully examine your mouth, teeth, and gums. The careful approach we take contributes to dental implants having a 95% success rate. Depending on your specific needs, there are several options available for you.
Missing One Tooth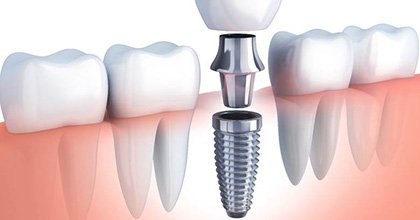 Even if you're only missing one tooth, it's critical that it be replaced. That's because each of your teeth plays a vital role in supporting your jaw structure and preventing the other teeth from shifting. The combination of the dental implant, abutment (anchor), and porcelain crown will leave your tooth fully restored.
Missing Multiple Teeth
For multiple missing teeth, you have the option of receiving an implant-supported bridge. The apparatus consists of a series of two or more porcelain crowns that attach to a dental implant via a titanium abutment. Therefore, you won't have to worry about your prosthetics slipping and irritating your gums. Most importantly, you'll have a long-lasting tooth replacement.
Missing All Teeth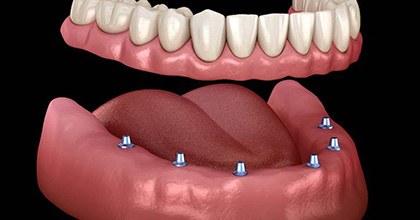 If you're missing a complete row of teeth, there is now an alternative to a traditional denture. You can instead enjoy the security that comes along with receiving an implant denture. Our dentists will place four to eight implants per arch that will allow a full set of dentures to be attached, which is a much better option than relying on dental adhesive and the suction inside the mouth to secure the appliance.
Understanding the Cost of Dental Implants
Many patients are concerned about whether dental implants will be worth the investment. We're here to tell you that it is! Although dental implants tend to have a higher initial price than regular dentures and bridges, they're actually the more cost-effective option in the long run since they can last several times longer. There is no fixed cost of dental implants in Bristol, but we'll review the factors affecting your treatment costs in great detail when you visit us for a consultation.
Preliminary Treatments & Dental Implant Surgery
It's not uncommon for patients to require one or more preparatory procedures before dental implant surgery, such as gum disease therapy, tooth extractions, or bone grafting. Understandably, each of these treatments will add to your overall treatment costs.
The surgery itself will also incur its own cost, as well as which type of sedation or anesthesia you receive. Since we can perform this step of the process right here at Bristol Family Dental, you won't have to worry about sending payment to an outside specialist.
The Parts of Your Dental Implant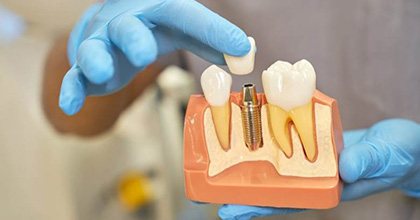 Of course, the main contributing factor to the price of dental implants is the number of posts you need, as this will influence the restoration that we place on top. For example, replacing a single missing tooth with one implant and a crown will naturally cost less than getting several implants to hold a denture in place.
The implant posts and their abutments can also be made from various materials that are ideal for different patients and come with different price tags. Our team will be happy to explain why we recommend one material over another.
How Dental Implants Can Save You Money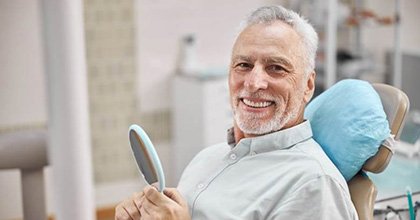 When you compare the up-front costs, it might be hard to believe that dental implants can save you money. Keep in mind, however, that they're an investment that pays for itself in many ways:
You won't need to constantly buy denture adhesive or special cleaning products – just the same oral care products you'd use for natural teeth.
Implants can last for 30+ years, while bridges and dentures need to be replaced every five to ten years at most. This saves you money (and time) on getting your prosthetics replaced.
Since implants are easier to care for, they naturally lead to better oral health. As a result, you're less likely to need expensive dental treatments.
Does My Dental Insurance Cover Dental Implants?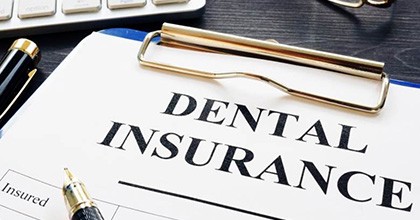 Every insurance policy is different, but many of them can help you reduce your dental implant costs to some extent. While it's unlikely that your plan will cover the implants themselves or their surgical placement, it may partially offset the price of your restoration, preliminary procedures, or some other aspect of your treatment. Our team would love to help you with the insurance process and ensure you get all of the benefits you qualify for. We accept most PPO dental plans, but we're in-network with Cigna, Anthem, and Delta Dental.
Making Dental Implants Affordable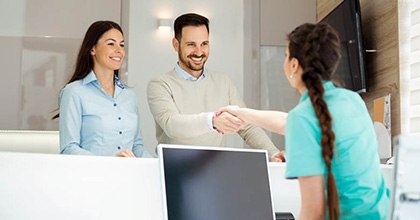 If your insurance plan doesn't provide enough coverage, or if you don't have insurance at all, we have other ways of making dental implants more budget-friendly, including:
CareCredit – This third-party financier lets you split your treatment costs into monthly installments and offers multiple low- to no-interest payment plans to choose from.
Bristol Family Membership Plan – Patients without insurance can sign up for our in-house savings plan, which nets you significant discounts on all of our treatments, including dental implants.
Dental Implant FAQs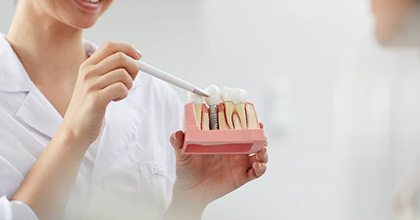 Dental implants are an excellent solution to treat tooth loss, but it will require you to make a lifelong commitment. As a result, it's natural to have several questions about the process and what lies ahead. Your dentist will take the time to explain what you can expect and address your concerns during your initial consultation. In the meantime, here are the answers to a few of the most common question we hear to help you make the best choice for your smile.
Can I Get Dental Implants If I Have Gum Disease?
Although gum disease is preventable, it's a leading cause of tooth loss in the United States. If you've lost one or more teeth from gum disease, you won't be a candidate for dental implants until the infection is no longer active. The long-term success of the treatment relies on your jawbone fusing to the post and remaining infection-free. As a result, you'll need periodontal therapy to stop the infection. In some cases, you may also need additional procedures to repair the damage it has caused, like tooth extractions or bone grafting.
Do I Need a Bone Graft Before Getting Dental Implants?
Dental implants have over a 95% success rate to last for several decades with the right foundation and aftercare. Their long-term success relies on your jawbone fusing to the posts to support them; therefore, you must have adequate bone density. If you've experienced bone loss from missing teeth, periodontal disease, or another issue, you might need an additional procedure called bone grafting to create the right framework for your new smile.
A small piece of bone is taken from another area of your body or from a donor and grafted on to the weakened areas in your jaw. Your jaw integrates with the grafting material, enhancing the thickness of your jaw. After your bone has healed, you'll be a suitable candidate for dental implants. Although bone grafting adds another step in your treatment plan, it's time well spent to ensure your new smile lasts for a lifetime.
Does Getting Dental Implants Hurt?
It's normal to be concerned about dental implants causing pain, but you have nothing to fear. A local anesthetic or sedative is used during your placement procedure, so you won't feel anything during the surgery. While you heal, you will experience some discomfort and swelling, but you can manage it with an over-the-counter pain reliever. After a few days, your discomfort will subside. You shouldn't have any pain once your jawbone has healed. If you develop any new or worsening pain after your implant placement surgery, don't wait to contact our office.
Can I Use My Insurance to Pay for Dental Implants?
Unfortunately, it is rare for a dental insurance company to cover the entire cost of dental implant treatment, but they may pay for certain aspects of it. After paying your annual deductible, you can use your coverage to lower the cost of certain steps in your treatment until you reach your yearly limit. We will work on your behalf with your insurance carrier to reduce the amount you need to pay out-of-pocket. We can help you complete your smile without breaking the bank.