Dental Implants in Bristol
A Permanent Solution to Missing Teeth
Missing teeth, putting it mildly, can be a real pain. They can make speaking feel awkward, limit your food choices, and over time, drastically decrease your dental health. When it comes to tooth replacement, while crowns, bridges, and dentures are fantastic, they all pale in comparison to the benefits offered by dental implants. At Bristol Family Dental, you can get complete implant dentistry under one roof thanks to Dr. Ross Katkowski and Dr. Karina Goykman. While most other practices will need to refer you to another office to get dental implants placed, our team can actually take care of everything ourselves so you can fill in the gaps in your smile even faster.
If you think dental implants are the permanent solution your smile needs, be sure to contact our office today for a consultation. We're also happy to serve patients from Plainville, Farmington, Burlington, and Southington.
What Are Dental Implants?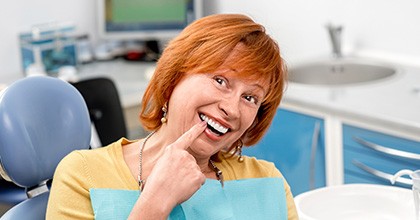 Dental implants are a restorative solution that can do what no other procedure can: recreate your tooth from root to crown. To do this, a small titanium post will be placed directly into your jaw, and this will be used to support a variety of restorations that can replace everything from a single tooth to a full set of teeth.
Indications for Dental Implants
At Bristol Family Dental, we will recommend various restorations based on the number of teeth you're missing and your desired results. While each restoration will result in a healthy and complete smile, there are still some differences that you should be aware of.
Missing Single Tooth
If you're missing a single tooth, we will use an implant-retained crown to complete your smile with strength and beauty. Our dental crowns are custom-made to match the rest of your natural teeth, allowing for a seamless restoration.
Learn More About Single Tooth Implants
Missing Multiple Teeth
Are you missing multiple teeth consecutively? We can use a dental bridge to literally "bridge" the gap in your smile. With dental implants on either side to provide a strong support, you can count on this personalized prosthetic to look and feel like your natural smile.
Missing All Teeth
If you're missing all or most of your teeth, there is no better option than implant-retained dentures. This solution allows us to replace your whole smile at once with the stability of dental implants. Using an average of four dental implants, we can secure a custom-made denture to your jaw for unmatched performance and confidence.
Dental Implant Placement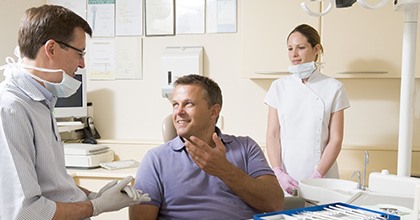 Dental Implants are placed over the course of two treatment phases. During the initial phase of treatment, we will surgical place the implant posts. This can sound a little off putting to patients, but the placement surgery is minimally invasive and completely comfortable.
We make a small incision in the gum tissue where the implant will be placed. Then, we attach a protective cap. This small cap allows the implant to fuse with the gum and bone tissue and it saves the place for the attachment of the replacement tooth or teeth. In some cases, we'll place a temporary tooth replacement, so you don't have to be without teeth during the healing process. It can take between three and six months for dental implants to fully fuse with the gum line. Once the implant has completely connected to the supportive structures, we'll remove the protective cap and place abutment posts. Then, your final tooth replacement restoration is designed.
Dental Implant Supported Restorations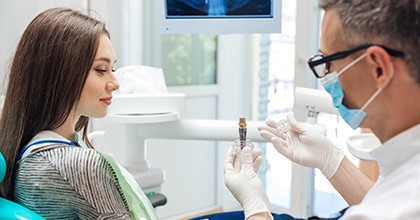 When we receive your custom crafted replacement tooth or teeth, you'll return to our office, so we can attach your restoration to the implant posts. We can use properly positioned implant posts to support any number of replacement teeth. In most cases, you can expect the following:
One tooth or two consecutive teeth – we can use one dental implant post to support a single dental crown or two fused together dental crowns
Several consecutive teeth – two dental implants, one on each end, are placed to support a fixed bridge restoration
Consecutive and Nonconsecutive missing teeth – partial dentures are crafted to fill the gaps in smiles and can be supported by two to four implants posts
Full row of missing teeth – a full denture is crafted to replace the entire row of teeth, and they can usually be anchored with four to six implant posts
The Benefits of Dental Implants
No treatment is right for every patient, but more and more dentists are pointing to dental implants as the gold standard in tooth replacement. No other dental restoration offers results as near to natural as dental implant supported restorations. Some of the many benefits of receiving dental implant supported tooth replacement include:
Stability
Dental implant restorations are held in place with titanium, meaning that once you have your new teeth, they won't be going anywhere. The biocompatible material even bonds to the surrounding jawbone just like your natural teeth.
Appearance
The restorations used to complete dental implants will be made of dental porcelain. This material completely mimics a tooth in both strength and appearance, and because it is rooted within your jaw like a real tooth, there won't be any obvious signs that you've had dental work.
Jaw Support
Dental implants support your jaw just like real teeth, which will help maintain your oral health for years to come.
Longevity
With routine brushing, flossing, and checkups, your dental implants can easily last for 30 years or longer. Many patients keep their implant supported restorations for the rest of their lifetime.