Dental Implants – Bristol, CT
The Gold Standard of Tooth Replacement
Living with missing teeth is not the type of life you want. Not only does it make eating a chore, but it has also left you less eager to smile for photos. How grand would life be if you could have any number of missing teeth replaced with the most reliable method available? You no longer have to wonder. Contact our office today to schedule a visit with our dentists and discover what dental implants in Bristol can do for you!
Benefits of Dental Implants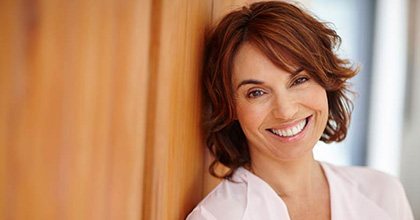 When it comes to replacing teeth, dental implants are in a class of their own. That's because they are inserted beneath the gum line, which is unlike any other form of tooth replacement. Here are some specific advantages they offer:
Prevent jawbone loss
A natural looking smile
A completely self-sufficient structure
With proper care, can last up to a lifetime
Made from durable and biocompatible titanium
Up to 75% of your original chewing capacity restored
Indications for Dental Implants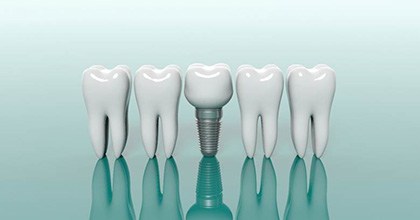 Before you receive dental implants, your dentist in Bristol will carefully examine your mouth, teeth and gums. The careful approach we take contributes to dental implants having a 95% success rate. Depending on your specific needs, there are several options available for you.
Missing Single Tooth
Even if you're only missing one tooth, it's critical that it be replaced. That's because each of your teeth plays a vital role in supporting your jaw structure and preventing the other teeth from shifting. The combination of the dental implant, abutment (anchor) and porcelain crown will leave your tooth fully restored.
Missing Multiple Teeth
For multiple missing teeth, you have the option of receiving an implant-supported bridge. The apparatus consists of a series of two or more porcelain crowns that attach to a dental implant via a titanium abutment. Therefore, you won't have to worry about your prosthetics slipping and irritating your gums. Most importantly, you'll have a long-lasting tooth replacement.
Learn More About Multiple Missing Teeth
Missing All Teeth
If you're missing a complete set of teeth, there is now an alternative to receiving a traditional set of dentures. You can instead enjoy the security that comes along with receiving a set of implant-supported dentures. Our dentists will place four to six implants per arch that will allow a full set of dentures to be attached, which is a much better option than relying on dental adhesive and the suction inside the mouth to secure the appliances.
Start-to-Finish Dental Implant Treatment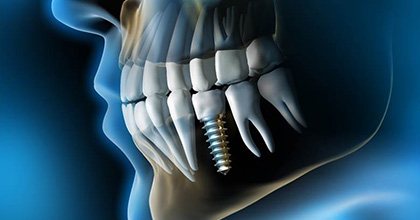 At Bristol Family Dental, we take a conservative approach to dental implant placement. Thus, we complete the entire process in-house to ensure the highest quality of treatment. Once we've assessed your oral health and underlying bone integrity, and deemed you eligible for the dental implant procedure, our dentists will replace any missing teeth by working from the jawbone up to the crown. Therefore, you can get back to leading a normal and happy life.
Understanding the Cost of Dental Implants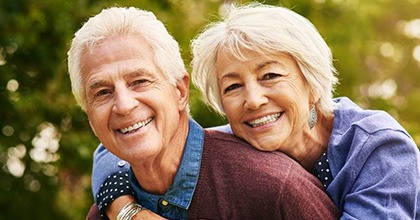 We understand that as part of planning for the dental implant procedure, it's important to know what your investment will be. That's why we invite you to visit our Bristol office. After a thorough examination and a determination of the number of teeth you need replaced, we'll develop a complete treatment plan.
Also, when figuring the cost, we'll take into account the dental implant, abutment and final restoration. Therefore, you'll be completely informed about each step of the procedure.
To learn more about tooth replacement with a dental implant and how you can have your smile reconstructed, contact us today to request a visit!
Dental Implant FAQs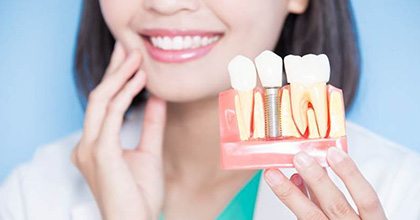 Dental implants are an excellent solution to treat tooth loss, but it will require you to make a lifelong commitment. As a result, it's natural to have several questions about the process and what lies ahead. Your dentist will take the time to explain what you can expect and address your concerns during your initial consultation. In the meantime, here are the answers to a few of the most common question we hear to help you make the best choice for your smile.
Can I get dental implants if I have periodontal disease?
Although gum disease is preventable, it's a leading cause of tooth loss in the U.S. If you've lost one or more teeth from gum disease, you aren't a candidate for dental implants if the infection is still active. The long-term success of the treatment relies on your jawbone fusing to the post and remaining infection-free. As a result, you'll need periodontal therapy to stop the infection. In some cases, you may also need additional procedures to repair the damage it has caused, like tooth extractions or bone grafting.
Is bone grafting necessary?
Dental implants have over a 95% success rate to last for several decades with the right foundation and aftercare. Their long-term success relies on your jawbone fusing to the posts to support them; therefore, you must have adequate bone density. If you've experienced bone loss from missing teeth, periodontal disease, or another issue, you might need an additional procedure called bone grafting to create the right framework for your new smile.
A small piece of bone is taken from another area of your body or from a donor and grafted on to the weakened areas in your jaw. Your jaw integrates with the grafting material, enhancing the thickness of your jaw. After your bone has healed, you'll be a suitable candidate for dental implants. Although it adds another step in your treatment plan, it's time well spent to ensure your new smile lasts for a lifetime.
Are dental implants painful?
It's normal to be concerned about dental implants causing pain, but you have nothing to fear. A local anesthetic or sedative is used during your placement procedure, so you won't feel anything during the surgery. While you heal, you will experience some discomfort and swelling, but you can manage it with an over-the-counter pain reliever. After a few days, your discomfort will subside. You shouldn't have any pain once your jawbone has healed. If you develop any new or worsening pain after your placement surgery, don't wait to contact your dentist.
Will my insurance pay for dental implants?
Unfortunately, it is rare for an insurance company to cover the entire cost of the treatment, but they may pay for certain aspects of it. After paying your annual deductible, you can use your coverage to lower the cost of certain steps in your treatment until you reach your yearly limit. We will work on your behalf with your insurance carrier to reduce the amount you need to pay out-of-pocket. We can help you complete your smile without breaking the bank.