Veneers – Bristol, CT
Say Goodbye to Smile Imperfections
There are several ways that our dentists here at Bristol Family Dental can help you improve the appearance of your smile. If, however, your teeth have so many cosmetic flaws that you don't know where to start, the wide array of treatment choices may be overwhelming. But thanks to a treatment known as porcelain veneers, we can give several of your teeth a complete makeover at the same time! If you've been dreaming of attaining a flawless smile, contact us today to ask for a consultation for veneers.
What Are Veneers?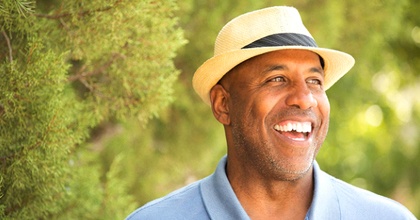 A veneer is a super-thin, tooth-colored shell made of dental porcelain. In the past, veneers were made of composite resin, but porcelain is much more durable, lifelike, and stain resistant. When bonded to the front surfaces of your teeth, veneers can correct the following flaws:
Small but noticeable chips and cracks
Slightly crooked teeth
Irregularly shaped or disproportionately small teeth
Discolorations or stains that don't respond to teeth whitening treatment
Small gaps between teeth
Veneers are by far the most versatile cosmetic dentistry treatment available today. And best of all, the process takes only a couple of appointments.
The Process of Getting Veneers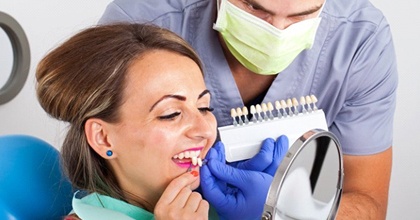 After your consultation to determine whether you're an ideal candidate for veneers, getting these custom restorations requires only two visits to our Bristol office. First, we'll prep your teeth by removing an ultra-thin sliver of enamel. This way, the veneers won't look bulky in your smile. The next step involves taking impressions of your prepped teeth and sending those molds to a trusted dental lab. A professional ceramist will get to work on crafting your veneers to our exact specifications. We may place temporaries in the meantime to let you get used to how they look and feel. A few weeks later, you'll return to our office. We'll place your permanent veneers and voila! Your smile now looks effortlessly perfect!
Benefits of Veneers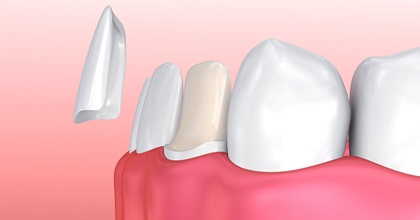 Some of the advantages of porcelain veneers are:
Stain resistance: Porcelain isn't as porous as natural tooth enamel, so it won't absorb discoloring particles nearly as easily.
Natural appearance: Each veneer is custom shaded to blend in with your existing smile while also correcting cosmetic imperfections.
Durability: Compared to composite resin veneers, porcelain veneers are quite durable. As long as you take good care of them, they can last upwards of a decade before they need to be replaced.
Minimally invasive treatment: Compared to dental crowns, which are meant to cover the entire tooth, veneers require less preparation and enamel removal.
Caring for Your Veneers
Taking care of veneers is easy; simply stick to the same habits that keep your natural pearly whites beautiful. Here are some habits that help you get the most out of your new smile:
Brush and floss on a regular basis.
Don't chew on ice, pens, or other hard objects.
Avoid opening packaging with your teeth.
If you play sports, make sure your teeth are protected with a customized mouthguard.
If you grind your teeth at night, ask us about a nightguard to protect your teeth as well as your veneers.
Visit Bristol Family Dental twice a year for regular checkups and cleanings.