Bristol Tooth Extraction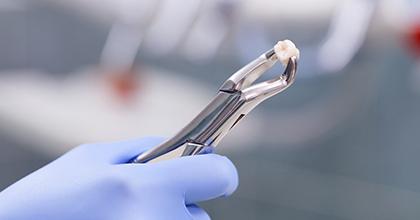 At Bristol Family Dental, we take helping patients keep their smiles healthy very seriously, and we provide personalized treatment plans that focus on preventive care. Unfortunately, we can't always avoid the need for more advanced restorative dentistry services like tooth extraction. When our patients need to have one or more teeth removed, we're happy to offer safe, effective, pain free extraction services in our Bristol dental office. If you want to learn more about tooth removal or any of the other dentistry services we provide, call our team to schedule your appointment today.
When is Tooth Removal Recommended?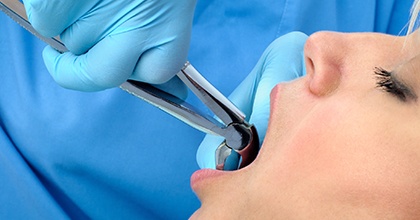 We don't often recommend tooth removal, but if the extraction of one or more teeth will benefit overall health, extraction may be the best course of action. Some of those situations where tooth removal is recommended include:
Decay or damage – when too much dental structure is lost to support a restoration
Impaction – when teeth are unable to erupt on their own
Crowding – when there is inadequate space along the jaw for additional teeth to erupt without changing bite alignment
Treatment preparation – to prepare patients for dentures or orthodontic treatment
Primary teeth – for kids whose first sets of teeth don't fall out on their own
Wisdom teeth – the third molars are the last set of teeth to erupt and they can cause a number of oral health concerns, including crowding and impaction
How is Tooth Extraction Performed?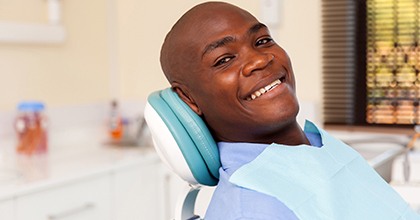 To remove your tooth, we may either pull or surgically extract the tooth. Pulling teeth is only possible for those teeth that are fully erupted from the gum line. It's also preferable that these teeth not have been in position long enough to bond firmly with the underlying bone and soft tissue. Clasping tools are used to shift the tooth back and forth until it can break away and be pulled free from the supportive tissues. Surgical extraction may involve a number of elements, including cutting away the soft tissue to reveal more of the tooth, drilling into supportive bone structures, or breaking teeth into small pieces for easier removal.
What Happens After My Tooth Extraction?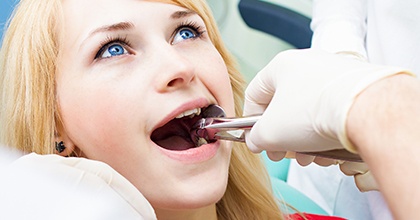 Following the removal of your teeth, our team will walk you through caring for your smile as you heal. As long as you follow our simple care instructions, you should be able to make a full recovery with minimal discomfort. Some of the basic steps you should keep in mind include:
Replace your gauze every few hours or any time the bandaging is saturated with blood
Consume only liquids for the first 48 hours after treatment and gradually reintroduce solid foods
Use cold compresses to relieve pain and prevent swelling at 20 minute intervals for the first two days
Take prescription or over the counter pain relievers as directed to ensure comfort
Clean the surgical site using cool water and/or antimicrobial mouth rinses as directed
You should also call our team right away if you notice changes that are distressing. For instance, an increase in pain or swelling rather than a gradual decrease and any warning signs of infection should be reported to us as soon as possible.