PROFESSIONAL TEETH WHITENING IN BRISTOL
IN-OFFICE & AT-HOME
It is an unfortunate fact that everyday activities can quickly stain our teeth, leaving them looking yellow and dull. There are many OTC products that claim to remove this discoloration, but they often fall far short of expectations. Instead of throwing away time and money on whitening methods that do not work, we invite you to contact us to learn more about how your dentist in Bristol can help you achieve a Hollywood-ready smile.
Zoom! In-Office Teeth Whitening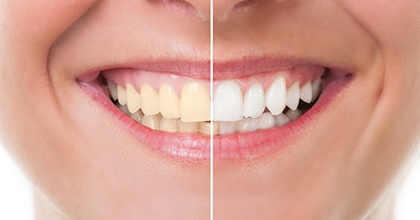 True to its name, Zoom! is an extremely fast way to eliminate years of stains from your teeth. In fact, in as little as one hour, you could achieve the brilliant, bright grin you've always wanted! Here is how the process works:
We always recommend that our patients get a regular teeth cleaning before their Zoom! teeth whitening procedure.
Once your teeth are clean, we prepare your mouth. We cover your lips and gums so the bleaching gel doesn't irritate them.
We apply the Zoom! hydrogen peroxide bleaching gel to your teeth and then use a special light to activate it.
You get to relax during the three 15-minute sessions of light activation.
We apply a sensitivity-reducing gel to your teeth.
You walk away feeling like a brand new you!
Take-Home Teeth Whitening Kits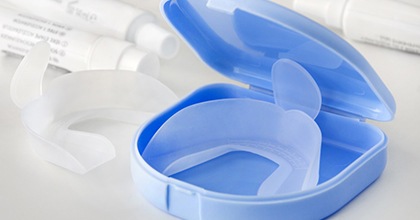 Zoom! is an amazing treatment, but it isn't right for everyone. If your teeth are extra sensitive, or you think it may be uncomfortable to sit through an in-office whitening procedure, you may want to ask your cosmetic dentist in Bristol for a take-home whitening kit instead. Using custom trays, you apply bleaching gel to your teeth every day for two weeks. During that time, your teeth could become up to eight shades brighter!
Take-home kits are also fantastic for people who have undergone in-office whitening. After all, you can't expect your teeth to stay pristinely bright without performing occasional touch-ups.
How to Maintain Your White Smile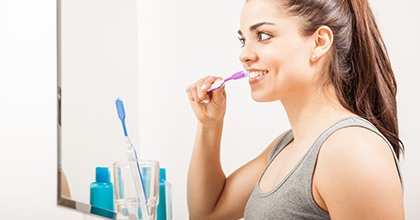 In addition to performing touch-ups on your teeth once in a while, we always suggest that our patients take steps in their everyday lives to prevent new stains from dimming down their smile.
Drink dark beverages, like coffee and red wine, in moderation. Enjoying them through a straw can minimize the amount of contact they have with your teeth.
Use a whitening toothpaste to battle surface stains.
Visit the dentist twice a year for a professional cleaning.
Don't smoke cigarettes or use other tobacco products.
Who Is a Candidate for Professional Whitening?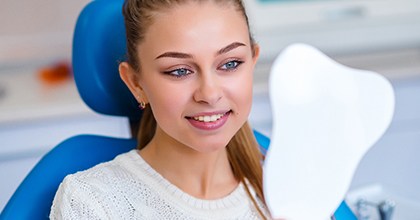 Professional teeth whitening in Bristol is ideal for almost anyone who wants to have a truly head-turning set of chompers. However, if you have significant oral health problems, such as gum disease, we recommend that you get these taken care of before you focus on your smile's aesthetics.
It's also worth noting that if you have dental bonding, veneers, or tooth-colored fillings at the front of your mouth, whitening may not be right for you simply because the bleaching gel will not affect these restorations. You may need to talk to your dentist about other treatments that can give you the grin of your dreams.
Teeth Whitening FAQs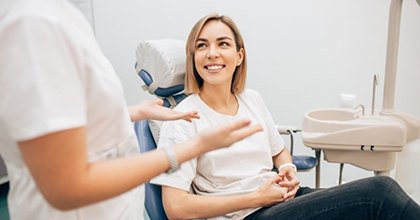 Are you still trying to decide whether you want to invest in professional teeth whitening in Bristol? Reading through the above information is a great place to start, but maybe you're still curious. To help you make an informed decision regarding your smile, we've included the answers to a few frequently asked questions about teeth whitening. Feel free to call us and ask if you have any further questions!
What's the Difference Between Professional and Store-Bought Teeth Whitening?
Professional and store-bought teeth whitening are both aimed at removing stains from your teeth and revealing a brighter smile, but that's virtually the only thing they have in common. While over-the-counter whiteners rely on watered-down bleaching solutions and one-size-fits-all applicators, our professional treatments are personalized to meet each patient's unique needs. We also take the time to examine your smile and consider the state of your teeth and gums as well as any existing dental restorations you may have (crowns, veneers, etc.).
In short, professional teeth whitening is a much more effective way to achieve the dramatically bright smile you've been waiting for.
Is Teeth Whitening Permanent?
No teeth whitening treatment is designed to be permanent. Tooth enamel is porous, meaning it naturally absorbs particles from the foods and drinks you consume. Over time, this leads to discoloration.
That being said, professional teeth whitening can last from a few months to a year or longer depending on how well you maintain your results. Make sure you practice good oral hygiene, visit us regularly for checkups, and ask us about whitening touch-ups every once in a while.
Does Teeth Whitening Hurt?
Because your cosmetic dentist in Bristol customizes your whitening treatment to your specific needs, you're extremely unlikely to experience the sensitivity or discomfort that is common with over-the-counter products. If your teeth are prone to sensitivity in general, please let us know; we can tailor your treatment to minimize sensitivity. Other ways to reduce this sensation include spacing out your whitening treatments, avoiding cold or hot beverages, and using a desensitizing toothpaste.
Does Teeth Whitening Damage Enamel?
No, professional teeth whitening should NOT damage healthy tooth enamel. However, the chemicals involved could cause problems for teeth that have been damaged by cavities or gum disease, which is why a preliminary exam is crucial before beginning treatment.
At-home teeth whitening solutions, such as hydrogen peroxide and activated charcoal, can actually cause more harm than good. Many of these products are actually abrasive; using them too often could wear down your enamel. For this reason, it's imperative to consult with our dental team before attempting to whiten your teeth. Even if you end up deciding against a professional whitening treatment, we can provide you with insights into oral hygiene habits and over-the-counter products that can help you meet your smile goals in a safe, healthy way.