October 22, 2017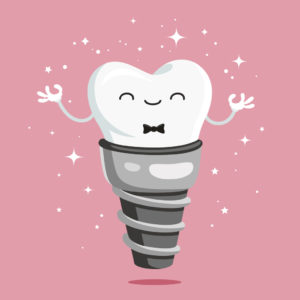 It's true, teeth are built to last a lifetime—but that doesn't mean they always do! There are plenty of factors that can play into the loss of one's teeth. Bad oral hygiene, genetics, and trauma are just a few reasons why you may have holes in your smile.
Whatever the reason, you need to replace them and replace them fast! Missing teeth can lead to many other severe dental problems down the road, including systematic tooth loss. Your dentist is here to present the most effective, long-lasting tooth replacement available today: dental implants in Bristol.
I've never heard of dental implants. What are they?
If you're missing teeth, the worst thing that you can do is pretend like nothing ever happened. Ignoring the problem makes your neighboring teeth more susceptible to falling out. Although getting dentures or another traditional tooth replacement is better than ignoring the issue, it's not the most effective way to replace teeth.
Did you know that there are critical parts of your smile that reside below the gum line? Your tooth root is protected by crown and chewing surface of your tooth. Tooth roots are important because they stimulate the jawbone, keeping your whole smile healthy. Thankfully, dental implants replicate the entire structure of a tooth from root to crown!
You May Just Be a Perfect Candidate for Dental Implants
If you're interested in dental implants, it's best to visit with a dentist in Bristol. Your dentist can determine if this is the best procedure for you by speaking to you about your lifestyle choices and health. You're most likely a great candidate for dental implants if you have:
Healthy, pink gums.
Not used tobacco recently and don't plan to.
Enough bone density to anchor the implants in the jaw permanently—this is super important!
Dedication to good oral health and hygiene both at home and by keeping regular dental appointments.
What if I'm Not a Good Candidate for Dental Implants?
Some patients may be better suited for other dental options. You may not be the best candidate for dental implants if you're:
Have a young, developing mouth.
Using tobacco.
Alcohol or substance abusers.
Currently pregnant.
Have had radiation treatment in your head or neck.
If you have any of these dental problems, your dentist will discuss different options with you to replace your teeth or possibly even work with you to build your jawbone density. Each of these factors affects your ability to anchor the implant posts with your jawbone—one of the most critical parts of dental implants!
It's important to understand the first step to a revitalized smile with dental implants is to meet with your dentist. A conversation about your dental health, lifestyle, and dental hygiene practices is key to discovering if you're a great candidate for dental implants.
About Our Office
If you're looking for true, long-lasting dental solutions, look no further. Bristol Family Dental is the kind of practice that everyone can come to and receive high-quality, advanced care to optimize oral health. If you're ready to receive the dental care your smile truly needs, feel free to call our office.
Comments Off

on Receive a Real Smile Fix with Dental Implants in Bristol
No Comments
No comments yet.
RSS feed for comments on this post.
Sorry, the comment form is closed at this time.