November 21, 2017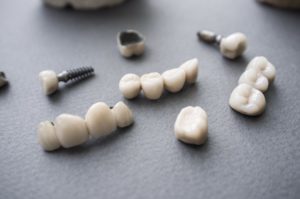 You've thought it over and decided that it's time. "Dental Implant Research" has been on your to-do list for weeks but you've kept putting it off. You wonder "Is there a dentist near me who can tell me more?" Fortunately, your dentist wants to help you cross that item off once and for all. Sure, you know what implants are and how they're made, but how can you save money and know exactly what you're getting? The following tips will help you understand the differences in more detail.
Compared to Implants, Dentures and Bridges Can't Compete
While these options will help you replace your teeth, it doesn't mean they'll have the same longevity, durability, or practicality. Dentures are designed to cover the upper (hard) palate, which can affect the way you taste food (especially if you don't routinely clean them.) Bridges require filing two adjoined teeth, making them weaker and more prone to tooth decay. Implants are treated just like regular teeth and have extreme longevity, so they are known to for being the most natural option for tooth replacement.
Know Where Your Implants Are Coming From
Typically, dentists will order their dental implants from the original Swedish manufacturer due to their high success rate in patients. There are many implant manufacturers out there, so it's important to know their track record when choosing implants.
If a company stands by their product, they will prove it with thorough evidence and research from results of previous patients. Watch out for the cheap generic implants that haven't been studied yet as they may not be as effective. Make sure to ask your doctor what implants they use.
Consider Joining A Discount Plan To Save Money
Some companies offer a discount specifically catered to patients seeking dental implants, such as DentalPlans.com or Brighter.com. In one example, patients saved 15 percent off their savings plan. These sites also help you compare plans by cost in your area, which will help you know how much you could save before putting any money down.
Figure Out The Best Time To Begin the Implant Process
You may already know that getting implants is a several-month process. If you have a pretax flexible spending account at your work, schedule the first part of your procedure at the end of the calendar year, followed by the second step of placing the crown in the year after. This will allow you to pay a larger chunk of the cost, particularly if you're in a high tax bracket.
Contact your dentist today to learn more tips and info on dental implants!
About the Practice
Bristol Family Dentist prides itself on having the best team of dedicated and experienced professionals with the best technology at their disposal. This includes their own team of dentists specialized in dental implants, Dr. Ross Katkowski and Dr. Karina Goykman. Dr. Katkowski earned his Masters in Molecular Biology at the George Washington University and his dental degree (D.M.D.) from Tufts University School of Dental Medicine in Boston, MA. Dr. Goykman, a Diplomate of the American Board of Periodontology, has completed three years of advanced training in Periodontology and Implant dentistry at the New York University College of Dentistry. To learn more tips about implants and their practice, visit their website or contact them at (860) 589-2794.
Comments Off

on 4 Things to Know When Getting Dental Implants in Bristol
No Comments
No comments yet.
RSS feed for comments on this post.
Sorry, the comment form is closed at this time.