December 18, 2017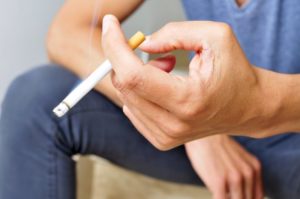 It's the last day of your dental implant treatment and you're smile is looking brighter than ever. As you walk to your car, you reach in your pocket and cup your hand around your cigarettes. As you go to take one out, you hesitate. Your dentist emphasized the risks that smoking pose for your teeth.
"But a dental implant isn't my own teeth" you think. "It doesn't matter" you might say, but it absolutely does. Your dental implants in Bristol are under great risk if you smoke, so don't waste your investment.
New Research Says Smoking Increases Risk of Implant Failure
According to a study on dental implants and smoking from the University of Murcia in Spain, researchers studied 66 patients who received a total of 165 implants. After viewing them for five years, they discovered that those who had smoked faced a higher risk of implant failure compared to those who did not.
Based on the data, smokers faced a 15.8 percent implant failure rate while nonsmokers only had a 1.4 percent failure rate. This proves that smokers are at much higher risk of facing complications during their post-op for dental implants.
The Misconception Behind Dental Implants
While it is true that bacteria cannot cause cavities in dental implants, it doesn't mean that the ceramic material used to make them won't be affected by the tar and chemicals in cigarettes. Bacteria can only attack organic material, so the only concern patients have regarding their implants is making sure the gum surrounding the implant is in proper condition.
Since smoking is notorious for causing gum disease, it will have just as much a negative affect on your implant as it does your regular teeth. This could cause your implant to not last as long as it should.
Smoking Affects the Longevity of Dental Implants
When patients smoke after receiving implant, it dramatically slows the healing process needed for the implant to remain tight and sturdy in the jawbone. It also increases their chances of a bacterial infection which can result inflammation of the gums and eventually periodontitis.
Smoking will also cause more tar buildup on the ceramic crown on top of your implant, causing it to wear down. Dental implants are meant to last a lifetime, but only if they receive proper oral care like the rest of your teeth. If you regularly smoke, you risk tarnishing your investment.
Don't let misconceptions cause the loss of the dental implants you worked so hard for. Ask your dentist in Bristol how to properly maintain your investment!
About the Author
Dr. Ross Katkowski earned his bachelor's degree at Hofstra University and his master's degree in Molecular Biology at George Washington University. He eventually obtained his dental degree (D.M.D.) from Tufts University School of Dental Medicine in Boston, MA. To learn more about dental implants procedures at his practice, you can contact him at (860) 589-2794 or visit his website.
Comments Off

on Smoking May Cause Your Dental Implants in Bristol to Fail
No Comments
No comments yet.
RSS feed for comments on this post.
Sorry, the comment form is closed at this time.