May 28, 2018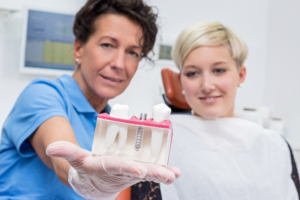 Are you ready to join more than 500,000 people this year who are choosing to replace their missing teeth with dental implants? That is great! You will make an excellent investment in your oral health and quality of life because they provide over a 95% success rate. Before you are ready to get started, you must first find a dentist for dental implants in Bristol. Since they tend to cost more than traditional tooth replacement options, you want to make sure that you get a great deal. When shopping for dental implants, you do not want to focus on the price. Instead, there are several factors that you must consider to save money without compromising the success of the procedure.

How Much Do Dental Implants Cost?
On average, a single dental implant can cost $3,000 to $4,500; however, there are several things that may influence the amount you can expect to pay, such as your dental coverage. While this may seem like a substantial amount of money, it is actually more cost-effective in the long run.
Dental implants have the potential to last for a lifetime with the right care. As a result, you will save money because you will not need to have them adjusted or replaced. In addition, you will not have to purchase special cleaning solutions or adhesives.
How Can I Pay for Dental Implants?
Generally, your dental insurance will not cover the whole cost of the procedure, but that does not mean that they will not pay for certain aspects of it. Depending on your specific policy, your insurance may cover a portion of the treatment, such as tooth extractions, the use of sedation, or the dental crowns. The amount they will pay also depends on whether your tooth loss was due to an accident or a disease.
If you have a Flexible Spending Account or a Health Savings Account, you may be able to use the funds to pay for your new smile. If your procedure is schedules in two parts, you can often use a portion of your funds. To make the most of your account, it is often best to schedule the first phase at the end of the year and the second phase at the beginning of the following year.
Discount dental plans can also be used to cover the cost. Depending on the plan, it may cover as much as 40% of the procedure.
Complete Your Smile Today
If you are ready to regain a complete smile, do not let the cost of dental implants in Bristol stop you from getting the results you want. To get an estimate and to discuss your payment options, schedule a consultation with your dentist.
About Bristol Family Dental
At Bristol Family Dental, we strive to provide the highest quality of care through all stages of life. In addition to general dentistry, we offer specialty services as well, including dental implants. We will help you get the smile you want while accommodating your budget. Contact our office today to see if dental implants are the right solution for you.
Comments Off

on How to Shop for Dental Implants in Bristol
No Comments
No comments yet.
RSS feed for comments on this post.
Sorry, the comment form is closed at this time.