August 24, 2018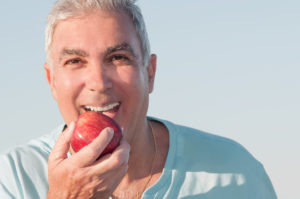 Living without your teeth has made life tough. You've endured a loss of confidence, the inability to eat the foods you like, and your jawbone support has been compromised. Thankfully, there's a way to be restored with dental implants in Bristol. So you can be educated about the process, your dentist weighs in to explain what dental implants are, how they are placed and what patients should do to prepare for the treatment.
What are Dental Implants?
Dental implants are surgically inserted titanium posts that are attached to the underlying jawbone and act as replacements for missing roots. They provide a sturdy foundation for the entire facial structure by fusing with the existing bone mass. After a brief healing process, a restoration (crown, bridge or implant-retained prosthetic) is then added, leaving patients with a fully-functional and aesthetically-pleasing smile.
The Evaluation
Before any work is done, patients undergo a tedious evaluation process, which contributes to a 95% success rate for dental implant placements. Your dentist takes a methodical approach to the following:
Capturing X-Ray images of your entire oral cavity to make sure there is enough healthy bone available to support an implant
Performing a thorough examination to make sure you have good oral health
Reviewing your medical records to ensure that your overall health is good enough for you to receive sedation dentistry
How to Prepare for a Dental Implant
The best way to prepare for the dental implant procedure is to sit down and talk to your dentist beforehand. If you have apprehensions, just know that it's perfectly normal. Your local professional will be more than happy to go over the entire process with you, which will leave you feeling confident about the procedure.
The Cost of Dental Implants
You'll also be informed at your consultation about the cost of the procedure. Because the dental implant process is customized to accommodate the specific needs of each patient, the cost can vary. However, you can expect to save money because every aspect of the procedure is done by your dentist at Bristol Family Dental using the CEREC in-house design and milling systems.
How You'll Benefit from Dental Implants
Here's what you stand to gain from the dental implant process:
A natural-looking smile
Prevention of bone loss
Renewed self confidence
Support for your facial structure
The ability to eat all your favorite foods
The dental implant process is an example of the continued breakthroughs in the world of dentistry that allow patients to enjoy richer and fuller lives. To learn more about the process, reach out to your implant dentist in Bristol to schedule a consultation.
About the Author
Dr. Ross Katkowski earned his dental degree from Tufts University School of Dental Medicine. He later completed a one-year residency program at Rochester General Hospital in Rochester, NY, where he received valuable experience in several areas of dentistry. To remain current with the latest changes in the dental world, Dr. Katkowski maintains membership in several professional organizations, including the Academy of General Dentistry. He helps patients live happy lives with dental implants at Bristol Family Dental and can be reached for more information through his website.
Comments Off

on Missing Teeth Restored with Dental Implants in Bristol!
No Comments
No comments yet.
RSS feed for comments on this post.
Sorry, the comment form is closed at this time.