September 8, 2018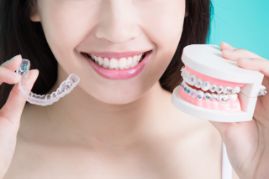 In a recent survey, almost 8 out of 10 adults reported that straightening their teeth was one of the most important things they had ever done for themselves. The increased self-confidence that comes with feeling great about your smile can be truly life-changing. But while just about everyone can agree that a beautiful smile is a wonderful thing to have, they may not be sure about the best way to achieve it. For many years, braces were the only option, but nowadays many people are choosing Invisalign in Bristol because of the many advantages it offers. If you'd like to straighten your teeth and are considering both options, keep reading to find out how the process differs between the two and which advantages you can expect from each!
How Is the Process Different Between Braces and Invisalign?
As any orthodontist in Bristol will tell you, teeth are straightened the same fundamental way – by applying pressure to move them into an ideal position over time.
Braces and Invisalign both achieve this same objective, but through different means. Braces rely on brackets and wires, while Invisalign uses clear, plastic trays called aligners.
The process is similar in many ways and always starts with an initial consultation. Then, before treatment can begin, X-rays, impressions and an exam are done so that treatment can be planned from start to finish.
Regardless of whether you choose braces or Invisalign, you'll return for visits periodically to make sure you're progressing according to plan. When your treatment is over, you'll need to wear retainers for the recommended amount of time to retain your results.
What Are The Benefits of Braces Vs Invisalign?
Both braces and Invisalign are used with great success on a wide variety of patients, but each option offers different advantages. Here are some of the benefits of traditional braces:
They work well for patients with more severe bite issues or those who need to correct jaw problems.
In many cases, the cost for braces and Invisalign is about the same, but some patients with particularly minor issues may pay less for traditional braces.
Braces aren't removable, so there's no temptation to remove them the way there might be with Invisalign trays.
For Invisalign, the most obvious advantage is that it's invisible, but there are several other benefits as well:
Invisalign is usually completed in 6-18 months, instead of an average of 24 months for braces.
Most patients only need progress visits every 6 weeks instead of every 4.
You remove your trays for brushing, flossing and meals. That makes it much easier to maintain healthy teeth and gums, and you won't have any dietary restrictions.
The clear aligner trays are much more comfortable than brackets and wires.
Which One is Right For You?
Each patient has a unique set of needs and goals, so the best way to determine which of these orthodontic treatments is right for you is to see a dentist in Bristol for a consultation.
Regardless of your situation, you can rest assured that there's an orthodontic option that will give you the smile you've always wanted – and the self-confidence that comes with it!
About the Author
Dr. Arabella Christian is a general, restorative and cosmetic dentist in Bristol who has used Invisalign to transform the smiles of countless patients. She loves helping her patients achieve the straight, beautiful smiles they've always wanted, without the hassle of braces. If you'd like to straighten your teeth and have any additional questions, she can be contacted via her website or at (860) 589-2794.
Comments Off

on Trying To Decide Between Braces and Invisalign in Bristol? Start Here!
No Comments
No comments yet.
RSS feed for comments on this post.
Sorry, the comment form is closed at this time.