July 29, 2019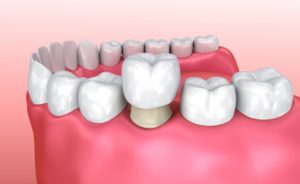 You're tossing the old pigskin around with some friends and having a great time. Suddenly someone tackles you from the side. Their elbow slams into the side of your face. You see something fly out of your mouth and call off the game. You pick up the broken pieces of your dental crown. What should you do in this situation? Make sure you call your emergency dentist in Bristol first thing.
What Are Dental Crowns?
A dental crown is a "cap" that covers up a tooth. They are typically made of dental porcelain and are often indistinguishable from a natural tooth. They can be placed for several reasons, including:
Protecting a tooth that was treated with root canal therapy
Replacing a large filling when there isn't enough tooth remaining
Restoring a fractured tooth
Covering a dental implant
Covering a poorly shaped or discolored tooth
Crowns are meant to last for a decade, or even more with regular brushing and flossing. However, certain incidents like injury or chewing something particularly hard or sticky can cause a crown to break or fall out.
What Should You Do If You Break Your Crown?
The first thing you should do is call your dentist. Let them know you have a broken crown, and they will do everything they can to see you as soon as possible. In the meantime, there are a few things you can do:
If you are in pain, apply clove oil to the area with a cotton swab. You can find clove oil at most drugstores.
If you still have the crown, clean the inside and coat it with tooth cement, which you can find in the dental section of your pharmacy. Then try and slip your crown back on. It's not a permanent solution, but it should be enough to protect the weak tooth underneath until you can see your dentist.
If you can't find the crown, put dental cement directly on the surface of your tooth. This can help temporarily protect and seal the area.
Your dentist will reattach the crown if it's still in one piece. If not, he or she may consider replacement with a same-day crown in Bristol.
What Are CEREC Same-Day Crowns?
Normally, crowns are a two-visit process: one visit to take an impression and one a few weeks later to place your permanent one. With CEREC, your dentist can craft a crown in just one visit. You won't have to wait ages with a weak temporary crown. You can walk right out of the office with your brand-new permanent crown that looks just like a natural tooth.
Crowns are a great way to restore a tooth that needs protection. If you have a crown come loose, make sure to contact your dentist first and foremost, preferably one who offers CEREC same-day crowns.
About the Practice
At Bristol Family Dental in Bristol, CT, we want all of our patients to feel comfortable. We don't want to have to refer them to an outside specialist unless we have to. That's why we have two general dentists, an endodontist, and a periodontist on staff. We also offer CEREC same-day crowns for your convenience. To learn more about how you could benefit from CEREC, contact our practice at (860)-589-2794.
Comments Off

on What to Do If You Break Your Crown from an Emergency Dentist in Bristol
No Comments
No comments yet.
RSS feed for comments on this post.
Sorry, the comment form is closed at this time.