September 22, 2019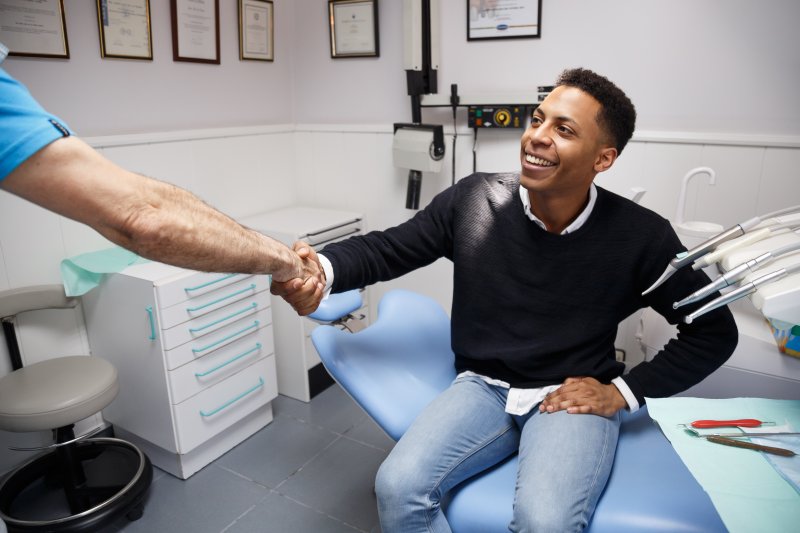 If you break a tooth while chewing on something hard, you'll need to have it repaired if you want to continue eating and speaking normally. Traditionally, you would need to wait for at least a month for a restoration, but why live with an incomplete smile for that long when the CEREC system can fix your tooth in just one appointment? Your dentist can give you plenty of reasons why same day crowns are better than using traditional methods.
What are Same Day Crowns?
It normally takes at least two appointments to get a new crown: one visit to prepare the tooth and take an impression, and then another visit a few weeks later for the crown to be attached to your broken tooth. However, thanks to a modern system called CEREC (Ceramic Reconstruction), some practices can eliminate the need to wait.
To create a same day crown using the CEREC system, your dentist will first use a 3D camera to take pictures of your tooth. (This method of creating an "impression" is more precise and less uncomfortable than using dental putty.) The digital images are then used by special CAD/CAM to design the crown and then mill it out of a block of ceramic material. Once it's done, all that's left is the placement!
What are the Advantages of Same Day Crowns?
Obviously, using CEREC to make a restoration in one day has many advantages over traditional methods, such as:
Convenience: You won't need to make multiple visits to the dentist to have your crown fitted and installed. That means less time away from work and more time enjoying your fully repaired tooth.
No Temporary Fillings: Patients who get traditional crowns might need temporary fillings to protect their teeth in the meantime, but with CEREC there's no need for this separate procedure.
Improved Comfort: Many patients have reported feeling more physically and mentally comfortable when getting a same day crown.
Improved Appearance: The ceramic used to create a same day crown can be used to create false teeth that look and feel natural. They generally look more attractive than traditional porcelain fused to metal crowns that tend to have a fine black line that runs along the gum line.
Precision: Because the tooth is made-to-measure in a single day, it's more likely to be a perfect fit.
Of course, not everyone is a candidate for same day crowns; in some cases, traditional crowns or another kind of treatment altogether will be recommended instead. For example, the condition and the location of the tooth might affect the crown's chances of success. Talk to your dentist about your condition and learn about all the options available to you. If you're looking for a convenient solution for your broken teeth, don't forget to keep CEREC same day crowns in mind!
About the Practice
At Bristol Family Dental, we help ensure that everyone who visits our practice receive the highest-quality care possible whenever they visit thanks to the general dentists, periodontist and endodontist on our staff. We're able to offer CEREC same day crowns to our Bristol patients that will let them walk out with renewed grins after a single visit. To schedule an appointment, visit our website or call (860) 589-2794.
Comments Off

on Repair Your Smile Quicker with Same Day Crowns
No Comments
No comments yet.
RSS feed for comments on this post.
Sorry, the comment form is closed at this time.