March 14, 2020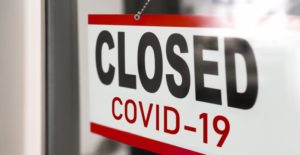 Your smile is important to you. As a result, you visit the dentist for checkups and cleanings every six months like clockwork, because you know how important this visit is for your oral health. However, as your routine hygiene appointment approaches in the coming weeks, you realize that you are not going to be able to go to the dentist. COVID-19 has everything shut down, including your dental office, except for dental emergencies. But don't worry! There are things you can do from the comfort of your home to make sure that your smile stays cavity and infection free until you can see your dentist in Bristol again.
Why Your Dentist's Office Is Closed
In addition to having a high mortality rate, COVID-19 is especially dangerous because it is so contagious. Small droplets can easily pass from one person another through a cough, a sneeze, or even in speech, spreading the infection quickly. Working directly with patients' mouths, your dentist and their staff are particularly vulnerable to catching or carrying this virus. For everyone's safety—both patients and dental team alike—it is best that their office stay closed until the crisis subsides.
What You Can Do to Keep Your Smile Healthy
Here are some at-home hygiene tips that can carry you through the quarantine until you're able to visit your dentist again.
Brush Properly
Make sure that you are brushing your teeth using the proper technique. Small, slow circles allow you to scrub your teeth without using excessive force. Also, be sure to brush for two whole minutes twice every day. That way, plaque does not have the chance to form and create dental problems like cavities or gum disease.
Floss Daily
Even if you use the best toothbrush and toothpaste, brushing alone inevitably leaves plaque between teeth. In these areas, bacteria can cause enamel erosion or irritate the gum tissue, leading to host of issues.
Use Mouthwash
If you're not already utilizing a fluoride mouthwash, start doing it now. This extra rinse fortifies your tooth enamel and helps it resist decay.
Drink Lots of Water
Throughout the day, take small sips of water. Not only can water help your body, but it can help rinse away bacteria, pieces of food, and plaque. Plus, it can help neutralize acids that erode tooth enamel.
Stop Snacking
Although it is difficult to avoid snacking all day especially if you're feeling bored, these frequent little bits of food can alter the microbiome of your mouth and make it easier for sticky plaque to form on your teeth.
Eventually, your dentist's office will reopen, and you'll be able to resume your six-month checkup and cleaning appointment. Until then, you can be extra diligent in your at-home care to ensure that your teeth stay strong and protected from harm.
About Bristol Family Dental
Temporarily closed because of the COVID-19 pandemic, Bristol Family Dental has five talented, experienced dentists on staff. Although all nonessential appointments are cancelled for now, the practice is still available for emergency patients and will post updates on the website to let patients know when the practice will reopen. If you need to contact Bristol Family Dental, you can call or click here.
Comments Off

on Keeping Your Smile Healthy until Your Dentist's Office Reopens
No Comments
No comments yet.
RSS feed for comments on this post.
Sorry, the comment form is closed at this time.