June 17, 2020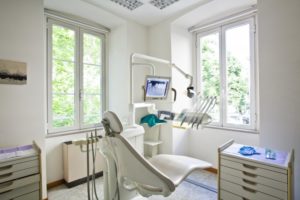 As the country begins to reopen in COVID-19, health and safety are at the forefront of everyone's mind. To keep you healthy while providing the dental care you may need, your safe dentist in Bristol has changed what "normal" appointments look like. A variety of infection control protocols and precautions have been put in place to protect you and your dental team from the coronavirus. Here's what to expect at your first appointment when your Bristol dentist reopens.
Arriving to Your Appointment
Instead of walking into the practice when you arrive for your appointment, you'll be asked to check in from the comfort of your car. This "virtual waiting room" minimizes your exposure to other patients and allows you to go directly to your treatment room when it's ready. When you enter the practice, you'll notice that several changes have been made to the reception area. You'll see fewer chairs, no toys or magazines, and new clear plastic barriers to prevent the spread of germs.
Before Your Appointment
You'll be asked to follow several precautions before your appointment begins, including:
Throwing away your gloves before coming inside to prevent cross-contamination.
Completing a quick health questionnaire and a no-touch temperature check.
Disinfecting your phone in a UV smartphone box
Cleaning your hands with a hospital-grade hand sanitizer.
Rinsing with a specialized antimicrobial mouthwash.
While these extra steps may seem over the top at first, they all play an important role in containing and eliminating any infected particles.
During Your Appointment
As your treatment begins, you'll notice that your dental team looks a little different than the last time you saw them. They've enhanced their working wardrobe with N95 and ASTM level three masks, face shields, and disposable protective coats. New equipment has been installed in each treatment room as well, like advanced chairside suction machines and HEPA filters to keep the air as clean as possible.
After Your Appointment
Once your appointment is over, every surface, fixture, and instrument will be diligently disinfected before the next patient enters. To minimize how many times you need to leave home in order to receive dental care, your dentist will get as much work done in a single visit as possible. Some follow-up visits and consultations can be changed to a virtual visit so you can attend your appointment from home. Remember, if you develop a fever, dry cough, shortness of breath, or any other COVID-19 symptoms within 14 days after your appointment, call your dentist as soon as possible.
While COVID-19 may have changed what your routine dental visits look like, it hasn't changed your Bristol dentist's commitment to your wellbeing. If you need to visit them for care, you can feel confident that they are taking every precaution to keep you healthy in the pandemic.
About the Practice
At Bristol Family Dental, nothing is more important than the safety of our patients, staff, and community. Our talented team of dental professionals has been monitoring the COVID-19 pandemic closely and adjusting our infection control protocols accordingly. To add peace-of-mind to the excellent dentistry you've come to expect, we have added 31 extra steps alongside the ambitious sanitation standards from the CDC that we have always met. To learn more about our Commitment to Safety, feel free to reach us via our website or at (860) 589-2794.
Comments Off

on Dentistry After COVID-19: A Glimpse at Your Next Appointment
No Comments
No comments yet.
RSS feed for comments on this post.
Sorry, the comment form is closed at this time.