November 18, 2020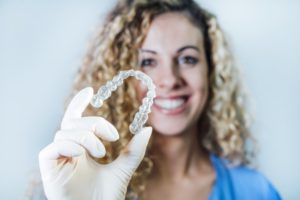 Who doesn't want an improved smile? If you are one of the millions of people who want straighter teeth, then you likely want the process to be as quick, simple, discreet, and affordable as possible. Many patients try to take matters into their own hands by choosing to order aligners from direct-to-consumer companies that will send them a kit to take impressions of their teeth. Once mailed in, technicians craft and send aligners straight back. It sounds pretty easy and effective, right? Think again! Your experts on Invisalign in Bristol have five important dangers of choosing mail-order aligners, and why it's crucial to put your smile in the hands of a professional dentist.
Five Dangers of Mail Order Aligners
Mail order aligners have become a popular option because of their affordability and seemingly time-saving nature, but here are five pitfalls that will change your mind:
Your Progress Will Not Be Monitored by a Licensed Dental Professional
It is extremely important that your aligners are crafted by a professional who has assessed your smile and knows exactly what you need. Getting perfectly straight teeth is far more complicated than using a tray mold that was sent to you via the postal service. You may have heard the phrase, "perfect practice makes perfect." Throughout the straightening process, progress needs to be monitored in-person by a highly trained and experienced professional to ensure that corrections are being made properly.
Treatment Will Not Be Tailored to Your Specific Smile
Like your fingerprints, your teeth are completely unique to you. A mass-produced item that is crafted without professional dental assessment does not allow for modifications of any kind. With traditional braces or Invisalign, your dentist can continually see what tweaks need to be made to ensure that your individual smile is improving according to plan.
Options Are Limited
When it comes receiving mail order impression materials, there is no guarantee that aligners are the best treatment for your specific smile. This means that in many cases, patients who are not actually good candidates for clear aligners are given the go-ahead, as opposed to being provided with other options that would best suit their smiles.
It Could Actually Cost You More Time and Money
While it might seem like opting for a mail order aligner will save you time and money, lack of professional monitoring throughout the process can lead to your teeth being straightened incorrectly. This can result in you having to have additional dental work in the future, putting a strain on both your wallet and your time.
Techniques Are Outdated
Taking impressions of teeth is not as simple as it might seem. In many cases, patients don't get their own impressions right the first time, and the mail order company will reject the sample. If this happens, more impression kits will need to be sent back to the customer, causing the process to become lengthier than normal. Your professional dentist in Bristol can ensure that your impressions are perfect before you leave the office, avoiding issues altogether.
Your smile is one of the first things that people notice when they meet you. It gives you confidence, and your teeth work hard every day to enhance your quality of life. Take care of them in the best way possible by making sure that you see a dental professional to help straighten your smile so that you can be proud of the results in the end!
About the Practice
Dr. Ross Katkowski, Dr. Peter Michaelson, and Dr. Arabella Christian lead the team of experts at Bristol Family Dental. They consistently work hard to give their patients the gift of restored confidence through straighter smiles. They prioritize comfort and work with each patient's schedule to make sure they are able to receive the treatment they need. Are you ready to talk about straightening your teeth? Schedule a consultation with us online, or call (860) 589-2794.
Comments Off

on Five Pitfalls of Mail Order Clear Aligners
No Comments
No comments yet.
RSS feed for comments on this post.
Sorry, the comment form is closed at this time.