March 18, 2021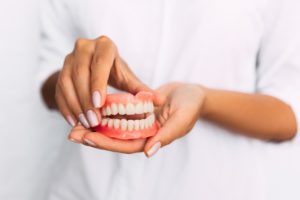 When you picture a dental emergency, you might invasion a knocked-out tooth or another serious issue that requires urgent attention, but a broken denture constitutes one, too. Since you've lost all your natural teeth, you might not believe you'll ever need an emergency dentist; however, if your denture breaks, you should make an appointment right away. While it may not be as urgent as a chipped or dislodged tooth, you rely on your dentures for a balanced diet. Not to mention, it's embarrassing to be caught without your teeth. You don't need to worry. Your dentist can quickly repair your smile, so you can get back to your day.
Common Causes of Broken Dentures
Modern dentures are made of durable material, but they aren't indestructible. Just like your natural teeth, they will undergo daily wear and tear from biting and chewing. After years of use and exposure to different temperatures from the foods and drinks you consume, your denture can break. If you have a lot of acidic foods or suffer from a dry mouth, your denture can experience damage sooner as well.
Your denture can also crack because your jawbone will slowly shrink over time. As a result, a denture may not fit correctly, leading to instability and pressure points that can weaken it. Besides daily use, it's not uncommon to accidentally drop or misplace your replacement teeth.
Fixing a Broken Denture
You can find many over-the-counter denture repair kits; however, it's best to leave the mending to the professionals. In some cases, you may only need a simple fix, but if your denture is severely damaged or old, you may need a replacement.
If your denture breaks, stay calm and assess the problem. If there are any broken or sharp pieces, stop wearing your denture right away and call your emergency dentist. They'll get you into the office and determine if your denture is repairable or if you'll need a new one.
Preventing a Broken Denture
Although you can't always prevent a denture from breaking, there are several things you can do to lessen your risk of damage, such as:
Handle your dentures carefully.
Clean your dentures at least once daily.
Clean your mouth after removing your dentures.
Rinse your dentures after eating.
Don't expose your dentures to excessive heat.
Soak your dentures nightly.
Store them in a safe place.
Visit your dentist regularly for adjustments, checkups, and cleanings.
Restore Your Smile Today
If the unexpected strikes, don't wait to contact your dentist. They'll provide the solution you need to restore a functional, beautiful denture. If you're interested in a more permanent treatment, ask your dentist about adding the stability of dental implants to your smile.
About Dr. Ross Katkowski
Dr. Katkowski earned his dental degree at the Tufts University School of Dental Medicine and has completed additional training at Spear Education. He has the qualifications and experience you can rely on for complex oral health needs, like dental emergencies. If you need a same-day appointment, contact our office today.
Comments Off

on Is a Broken Denture a Dental Emergency?
No Comments
No comments yet.
RSS feed for comments on this post.
Sorry, the comment form is closed at this time.