April 29, 2021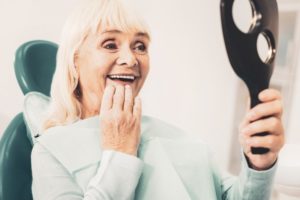 Once you've experienced tooth loss, you gain a new appreciation for having a full set of teeth. Thankfully, dentures provide a cost-effective and reliable way of restoring a portion of your lost functionality, while also giving you the confidence to smile freely. Unfortunately, dentures don't last forever; they will eventually become worn and need replacement. What are some warning signs to be on the lookout for? Continue reading to find out.
A Poor Fit
Because traditional dentures rest above the gum line and don't provide any support at the jawbone level, it's inevitable that the jaw structure will change over time. This can cause the dentures to fit loosely and make it difficult to chew and speak normally.
Broken Teeth
Dropping your dentures or applying too much bite force when chewing can cause them to break. In some instances, a dentist may be able to repair them. In most cases, though, they'll need to be replaced.
Pressure Sores
Improperly fitting dentures can eventually cause pressure sores to develop. They can typically be found on the parts of the gums where the dentures apply the most force when you bite down.
Discolored Teeth
Ongoing dental negligence can lead to discolored teeth. Drinking coffee, tea, red wine and consuming other highly pigmented foods and beverages can also alter the appearance of your dentures.
Chipped Denture Base
Without a solid foundation, a set of dentures can't function properly. If the resin base breaks or chips, the dentures aren't safe to use and should immediately be replaced.
Chronic Pain
When you first receive a set of dentures, you can expect some discomfort as your mouth works to adjust to the new appliance. However, if it persists and causes sores to form along the gum line, you should bring it to your dentist's attention so you can avoid a dental emergency.
Gum Irritation
Often, a dentist can make minor adjustments to address any gum irritation. If the discomfort persists, it can indicate that the dentures need replacement. You should also be on the lookout for any sores, raw spots or soft tissue bleeding.
If you notice any of the above issues, it's important that you take action instead of waiting until it worsens. In doing so, you can more effectively function with your dentures and prevent the more complicated issues that can arise from prolonged dental negligence.
The Possibility of Receiving Dental Implants
Another option for a worn-out set of dentures is to have dental implants placed. The titanium posts are surgically inserted into the underlying jawbone to create a level of security that is only matched by the original tooth root.
When you visit your dentist, you can determine whether a set of replacement dentures or implants are best suited for your dental needs. By taking action, you can soon have your life back on track!
About the Author
Dr. Ross Katkowski earned his dental degree from Tufts University School of Dental Medicine. An avid learner, he continues to further his education by attending seminars with Spear Education. Dr. Katkowski has also completed several hours of advanced postgraduate training organized by the Connecticut State Dental Association. He custom designs and replaces dentures at Bristol Family Dental, and he can be reached for more information or to schedule a visit through his website.
Comments Off

on If You Notice This, It May be Time to Replace Your Dentures
No Comments
No comments yet.
RSS feed for comments on this post.
Sorry, the comment form is closed at this time.