May 5, 2021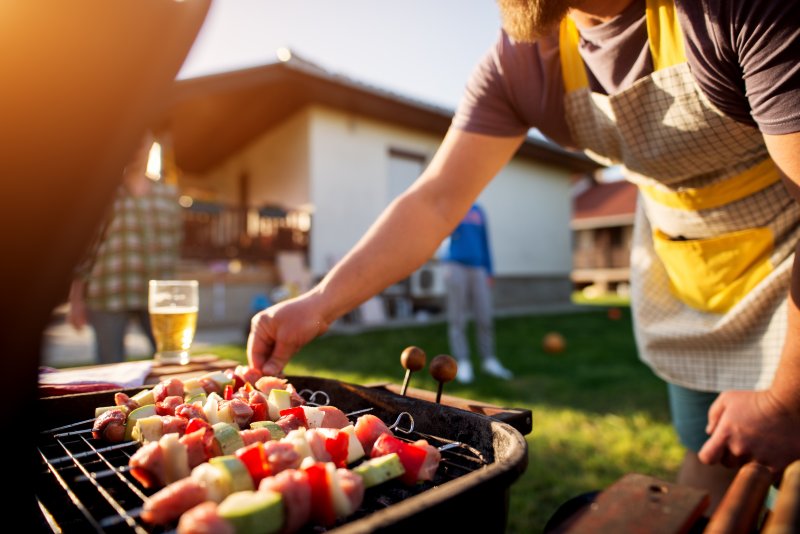 Sun's out, grills out! Summer is a season full of backyard barbecues—everyone wants to spend their time outdoors, soaking in the warm weather while enjoying a delicious plate of food.
You may be ready to beam with confidence during all your festivities thanks to your new dentures. However, it will take some time to adjust to your smile and you will need to take it easy when it comes to eating. Read on to learn a few tips on how you can enjoy your favorite meals with dentures.
Eat Soft Foods
The first week or so after getting dentures, you may find your gums feeling a bit sore. This is completely normal while your mouth adjusts to your new prosthetic. During this period, it's best to stick to liquid or soft foods, like applesauce, pudding, oatmeal, eggs, or soup, to prevent discomfort.
Be Cautious of Hot Foods
It may be tempting to immediately dig into a hot dog that's fresh off the grill, but with dentures, you need to make sure your food is completely cooled before eating. They have an insulating effect on the mouth which makes it difficult to feel hot temperature until it's too late. If you're not wary, you could easily burn sensitive soft tissues inside your mouth. To avoid burns, sample a small amount of hot food, or liquid, to gauge its temperature before going to town.
Cut Your Food into Bite-Sized Pieces
Prior to eating, cut solid food into small, bite-sized pieces to avoid putting extra strain on your jaw, gums, and new dentures. If you're struggling to chew raw fruits and vegetables, try cooking them to soften the foods and make them easier to eat.
Choose Your Meat Carefully
It's hard to stay away from grilled meats during summer, but you may want to avoid all the steaks and ribs because they take significant chewing effort. Instead, opt for poultry, fish, slow-cooked meat, or ground meat. They're softer and will be a lot easier to enjoy during your adjustment period.
Stay Hydrated
The sunny season is full of tasty foods and treats. To keep food particles from clinging to your teeth, make sure to drink plenty of liquids, ideally, water. Washing your food down with a beverage will rinse your mouth of anything that could get stuck in your dentures.
Still Struggling? Consider Dental Implants
If you find yourself struggling to eat foods even after these tips, you may want to consider dental implants. They are the most permanent form of dental replacement available and can provide you with a natural-looking smile, up to 75% of your original chewing capacity restored, and can last a lifetime with proper care. Dental implants can help improve your ability to eat certain foods, so you can get back to enjoying all your favorite summertime barbecue treats.
Don't miss out on your favorite summer meals! Use these tips to make the most out of your days off while enjoying your beautiful, new set of pearly whites.
About the Practice
Bristol Family Dental offers patients the highest quality of care during every visit. We have multiple specialists on our team, including a general dentist, periodontist, and endodontist, so you can receive truly comprehensive dental care under one roof. If you're struggling with missing teeth, we can help you rebuild your smile with dentures using the latest advancements in dentistry. To schedule a consultation, visit our website or call (860) 589-2794.
Comments Off

on 5 Tips to Help You Enjoy Summer Foods with Dentures
No Comments
No comments yet.
RSS feed for comments on this post.
Sorry, the comment form is closed at this time.