August 20, 2021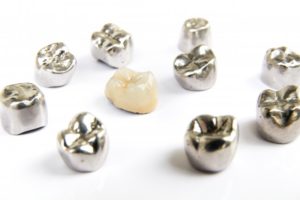 Is one of your teeth covered with a metal dental crown? If so, chances are you received it back when it was the only option to repair your tooth. Luckily, dental technology has advanced considerably since then. These days, your dentist can create dental crowns made of tooth-colored ceramic for results that are not only more natural-looking, but also better for your oral health. Plus, metal-free dental crowns are often just as durable as metal ones. Keep reading to learn why you shouldn't think twice about replacing your metal crown with a ceramic one!
Look Younger with a Metal-Free Crown
Having a metal crown may actually send the message that you're an older adult. After all, dentists rarely use metal for restorations anymore, and many people don't need dental crowns until slightly later in life. That's why getting a metal-free crown can turn back the clock on your smile. Dental ceramic can be customized to match the color of your natural tooth enamel, so other people shouldn't be able to tell that you even have a crown!
Metal Dental Crowns Aren't Exactly Healthy
Typically, metal crowns are composed of materials that don't interact well with the human body, such as nickel and even trace amounts of mercury. For example, nickel may lead to a greenish tint in the gums or even a dangerous allergic reaction, and long-term exposure to mercury can be toxic. While metal dental restorations are considered safe for the majority of healthy adults, replacing your metal crown might bring you peace of mind.
They Can Also Cause Tooth Sensitivity
Does a sharp pain shoot through your mouth when you consume a hot or cold beverage? Metal crowns can lead to painful sensitivity when exposed to extreme temperatures. That's because metal conducts heat well. Therefore, when you eat or drink something hot or cold, that sensation passes through the crown and irritates the nerves inside of the tooth. If you're struggling to enjoy a bowl of ice cream or a cup of coffee, consider getting a metal-free crown that protects against sensitivity.
Metal Crowns Can Complicate MRIs
Planning certain medical treatments often requires your doctor to use magnetic resonance imaging (MRI). Unfortunately, metal crowns can easily interfere with this process. When you enter a magnetic field to get images of your anatomy taken, the materials in your crown can respond. At best, the images may appear distorted, and at worst, the magnetic force can pull your crown right off your tooth!
Modern technology has made dental treatments like crowns much safer than they used to be. Ask your dentist about replacing your metal crown with a metal-free one for more lifelike and healthier results!
About the Practice
Our dentists at Bristol Family Dental are skilled in a variety of areas of dentistry, ensuring you can get all of your smile's needs met in one location. We're proud to offer metal-free dental crowns thanks to our CEREC technology. Not only are these crowns safer and more aesthetically pleasing, but we can design, create, and place them in a single appointment! To learn more about your options for replacing a metal crown, contact us at 860-589-2794.
Comments Off

on 4 Reasons Why You Should Replace Your Metal Dental Crown
No Comments
No comments yet.
RSS feed for comments on this post.
Sorry, the comment form is closed at this time.