April 5, 2022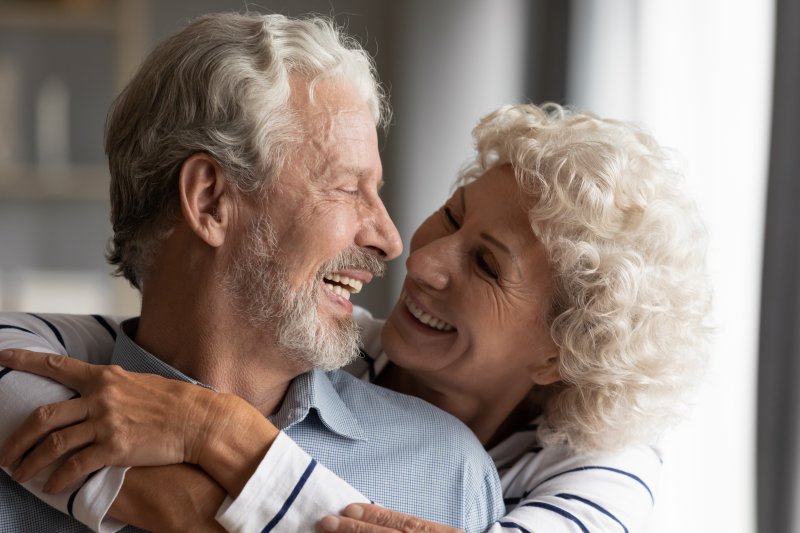 If you're trying to replace missing teeth, then you're probably considering getting traditional or implant dentures. By providing structure and support to your mouth, you'll be able to enjoy a healthier and more youthful appearance in the long run. However, adjusting to the traditional restorations can be a challenge for most patients. But how do implant dentures compare to the regular ones? Keep reading to learn four ways they're actually more convenient to get used to!
#1: They're Much Easier to Talk With
While they offer your teeth and jaw a sturdier form, traditional dentures can often be difficult to speak with. This is because they rely on the suction with the gum line, which can sometimes make them come off. In contrast, implant dentures are directly fitted to metal posts that are surgically embedded into the bone. This means they'll feel and function as natural teeth, removing any doubts about your ability to speak clearly.
#2: You Won't Have Food Restrictions
Since your dental implants act as permanent roots for your new teeth, you won't have to worry about limiting the kinds of foods you can eat. With their superior stability, you can enjoy your favorite meals with your restored biting power. You may feel mild soreness when first placing them on, but you'll grow accustomed to them much faster than with traditional dentures.
#3: Cleaning Them Is a Smoother Process
Some implant dentures can still be removed for those who want to retain the normal cleaning habits. You'll have to brush and soak them often as well just like the regular restorations, and visiting your dentist twice a year for maintenance will still be necessary. The key difference is in how your gums feel when performing these tasks, as your implant dentures will not place pressure on your jaw or other teeth.
#4: You Can Immediately Enjoy Your New Teeth
Unlike with traditional ones, you can be sure to enjoy your implant dentures right after leaving the dental office. Not only will you speak clearly and eat whatever foods you'd like, but you can feel comfortable flashing a brilliant smile without the thought of them falling out. This can give you a boost in confidence, knowing that you have your teeth again, which can also improve your overall health in the long run.
Replacing missing teeth with implant dentures is extremely convenient, especially with the lasting effects they'll have on your dental health. Speak with your dentist if you're interested in them, and they'll be glad to discuss your options with you!
About the Practice
At Bristol Family Dental, we proudly deliver passionate, comprehensive, and high-quality dental care for patients of all ages. We have the friendliest staff and utilize the latest technology to provide modern and relaxing treatment. We offer a vast collection of procedures, including traditional and implant dentures, to fully restore your smile. If you'd like schedule a consultation for implant dentures, feel free to visit our website or call us at 860-589-2794.
Comments Off

on 4 Ways Implant Dentures Have A More Convenient Adjustment Time
No Comments
No comments yet.
RSS feed for comments on this post.
Sorry, the comment form is closed at this time.