Multiple Missing Teeth – Bristol, CT
Complete Your Smile with Dental Implants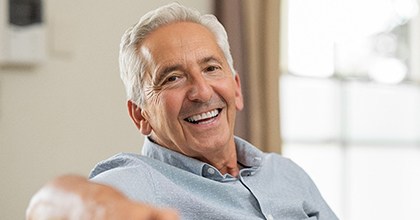 Modern innovations in dentistry allow your dentist to preserve your natural teeth for longer than ever. Unfortunately, many people still experience tooth loss. If you've lost multiple teeth over the years, you have more options than ever to rebuild your smile. Besides traditional solutions, our office also offers dental implants in Bristol. We'll create the personalized plan you need to enjoy a complete, beautiful smile again.
Two Consecutive Missing Teeth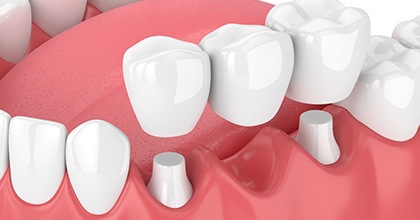 Traditionally, two missing teeth in a row are treated with a fixed bridge. All-ceramic material is used to recreate the portions of your teeth above the gum line. The bridge is held in place by bonding dental crowns over the adjacent teeth. Although it's effective, you will need to permanently alter healthy teeth. As an alternative, a dental implant can be used to anchor your bridge to your jawbone to leave your remaining teeth untouched.
Three or More Consecutive Missing Teeth
A fixed bridge can also be used to replace three or more lost teeth in a row. You'll still require the support of your adjacent teeth to hold it in place. It will function closely like your real teeth, but it will need to be replaced about every 10 years. If you want a permanent solution, a dental implant post can be used at either end to secure your bridge to your jaw.
Multiple Missing Teeth Throughout an Arch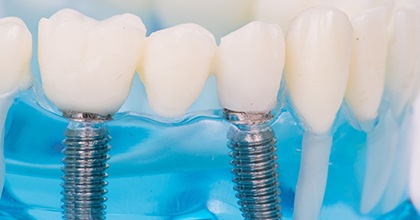 Significant tooth loss can be treated with a full or partial denture. If you still have a few healthy teeth remaining, you might be a candidate for a partial. Prosthetic teeth are held in a gum-colored base that has a metal framework, which allows it to clip onto your real teeth to hold it in place. A full denture treats an entire arch of missing teeth using a prosthetic that sits on top of your gum tissue using suction or an adhesive.
Dental implants can also recreate several missing teeth. Besides single tooth units and implant-supported bridges, we can also anchor your denture to your jawbone using 4 to 10 titanium implant posts. You'll enjoy a nearly perfect replica of your natural smile without worrying about any slipping or irritation.
Benefits of Implant-Retained Prosthetics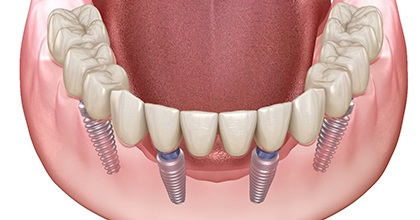 A dental implant mimics the entire tooth structure from the root up. As a result, you'll advantage from several benefits not possible with any other treatment, including:
Over a 95% success rate for predictable and reliable results.
Looks natural to smile confidently.
Regain as much as 70% of your natural biting force.
Eliminates slipping and irritation.
Doesn't alter healthy teeth or rely on them for support.
Preserves your jawbone to improve your oral health.
Supports your facial tissues for a youthful appearance.
Easy maintenance and care.
Can last for decades with the right aftercare.
Cost-effective solution that shouldn't need to be replaced.
Schedule Your Consultation
Your dentist in Bristol can rehabilitate your smile using a proven solution that caters to your needs and expectations. Contact our office today to schedule your consultation to replace multiple missing teeth.