October 2, 2018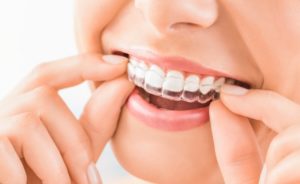 Are you interested in fixing your misaligned smile? For years, you only had one option: traditional braces. These bracket and wire teeth straighteners are bulky, noticeable, hard to eat with, and a hassle to clean. Thankfully, Invisalign clear aligning trays allow you to straighten your teeth without anyone noticing! Plus, you can take them out to eat whatever and whenever you want. Read on to learn the 6-step process of Invisalign treatment from your cosmetic dentist in Bristol.
#1: Have a Consultation with Your Dentist
If you're interested in Invisalign treatment, your dentist must first decide you are a good candidate. More severe alignment and bite issues must still be treated by traditional braces, so your dentist will check your bite to see if you're eligible for clear aligning trays.
Your dentist will also make sure that you know the responsibility and commitment Invisalign treatment requires. The clear aligners need to be worn almost 24 hours a day and should be cleaned regularly. If you or your teenager lack responsibility, or you don't think you'll be able to keep up with the treatment, your dentist may recommend traditional braces.
#2: Your Dentist Creates a Treatment Plan
Once your dentist decides Invisalign is right for you, they'll take X-Rays and impressions of your teeth to create your custom aligners. Your dentist can map out how your teeth will shift and the Invisalign aligners will be made accordingly.
#3: Wait for Your Aligners
Because these aligning trays are custom-made for your specific smile, it may take around a month for your Invisalign treatment to be ready to go.
#4: Wear Your Aligners
Now, you'll be given a series of aligning trays to wear in a specific order. These slowly, but surely shift your teeth into place. Each tray should be worn around 2 weeks, for at least 22 hours. However, you can take them out to eat, brush, and floss when needed.
#5: Your Dentist Refines Your Smile
After your last tray is worn, your dentist will carefully inspect your teeth to see if they have all shifted into your desired position. More often than not, you still may need a few adjustments. Your dentist will give you a few more aligners to refine your smile for no additional charge.
#6: Maintain Your Pearly Whites
After treatment, your dentist will recommend wearing a retainer to help your smile solidify into its new alignment. Wearing a retainer for a few months after treatment will ensure your teeth stay in place for a beautifully straight set of pearly whites.
Does it sound like Invisalign in Bristol is right for you? Talk to your local dentist about how you can start on your journey towards straight teeth in the most discreet way possible!
About the Practice
At Bristol Family Dental, we have a team of 4 highly-trained dentists who provide the best care possible to their patients. They understand that your smile directly affects confidence, which is why they offer Invisalign as a subtle way to straighten your smile. They can be contacted through their website or by phone at (860) 589-2794 for any questions
Comments Off

on A Cosmetic Dentist in Bristol Explains Invisalign's 6 Step Process
No Comments
No comments yet.
RSS feed for comments on this post.
Sorry, the comment form is closed at this time.